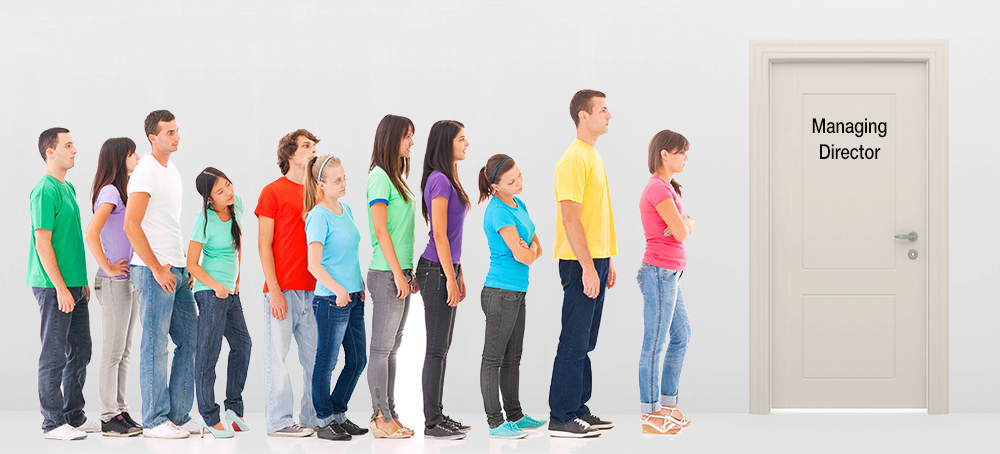 Is this a common scene? A queue of staff waiting to get approval for actions or decisions that they could have made themselves.
Leadership is not telling people what to do, leadership is the creation of an environment where individuals start to anticipate for themselves and act in line with the organisations objectives. They develop in their own right and ultimately can make decisions without having to seek permission or to be told.
Leaders nurture their people and create dynamic and agile businesses because decisions are made faster.
Leaders in print helps organisations to maximise the potential of their people and  equipment by coaching their  executives  in  leadership and organisational best practices.
Leaders in print is an organisation that is aimed at business owners and executives within the print and graphic arts industries that are seeking to develop themselves, their team or their organisation. We offer one to one mentoring for business owners, executive teams or individuals  with a view to share knowledge, visions and cultures in the fast changing sector.
Leaders in print have a range of solutions to help you turn your organisation from a management orientated business to a leadership orientated enterprise.

Leaders in print is an organisation specifically aimed at the print and graphic arts market where we help organisations and individuals to develop their leadership skills. We have a collection of long standing experts and specialists who can help businesses structure themselves for growth and help with the general development of their strategy and sales initiatives.
We help with executive development • enabling vision and culture • Ideas and best practice sharing • General business and individual reviews.
Contcat us if you believe that you have a need for structured and well tested business development.
john.charnock@pr-int.net